"We don't always realize it, but each one of us had come a long way since diabetes first came into our life. It doesn't matter if it's been 5 weeks, 5 years or 50 years, you've done something outstanding diabetes-wise. So today let's share the greatest accomplishment you've made in terms of dealing with your (or your loved one's) diabetes. No accomplishment is too big or too small – think about self-acceptance, something you've mastered (pump / exercise / diet / etc.), making a tough care decision (finding a new endo or support group / choosing to use or not use a technology / etc."
In the 8 years and almost three months since John's diagnosis, I would say I have accomplished a few things:
1) Taking a "one for all and all for one" approach with our new normal. We had always eaten the same thing, so I couldn't imagine singling John out and making him eat differently. Not gonna happen in this house. (This approach was tested in 8/07 when John's #2 brother was diagnosed with Celiac Disease.)
The real world will be upon him before I know it and I want to give him a good grounding with lots of healthy food (and a few treats thrown in) in our family setting, with his favorite five friends and his favorite parents not only cheering for him, but being on the same team.
2) Embracing carb counting, in a big way, early on. My preferred method is weighing, second would be measuring, and only as a last resort will I guess. I know people that do, and I can, but it is not perfectly accurate, and since diabetes throws so many curve balls, for no apparent reason, I feel that I should be doing everything I can to keep The J healthy. I think I have bordered on being obsessive about it, so am trying to still be very precise and accurate, while a little less uptight 😉
3) Caring for John while he was a baby, then preschooler, while being pregnant, then having his two younger brothers (5/05 and 7/08).
To be honest though, I am sure that is the reason for some of the downs I experienced with the older three children and homeschooling. As I said in Monday's post, no one can do it all.
4) Learning from #1 and through much prayer, learned to juggle a little better and began resurrecting/rescuing my relationship with the older ones, who had been expected to "keep on and carry on" while I was so busy with the younger guys + diabetes. It took years, but we are in a good place now. Well, most days. 😉
5) Starting per John's request at about age four, to turn small areas of his care over to him. He wanted to start with testing and when he started on a pump at age 5 (11/05), he took to that like the jr. engineer that he is! He now can do everything for his site changes, except the actual placement. We are currently working on carb counting.
His nurse practitioner told us when he was tiny that he would get interested in taking care of himself, but I was really surprised when he did at only, age four. Of course, he was a veteran by then.
Whew, this has been an interesting week. Lots of brain, memory and emotion dumping.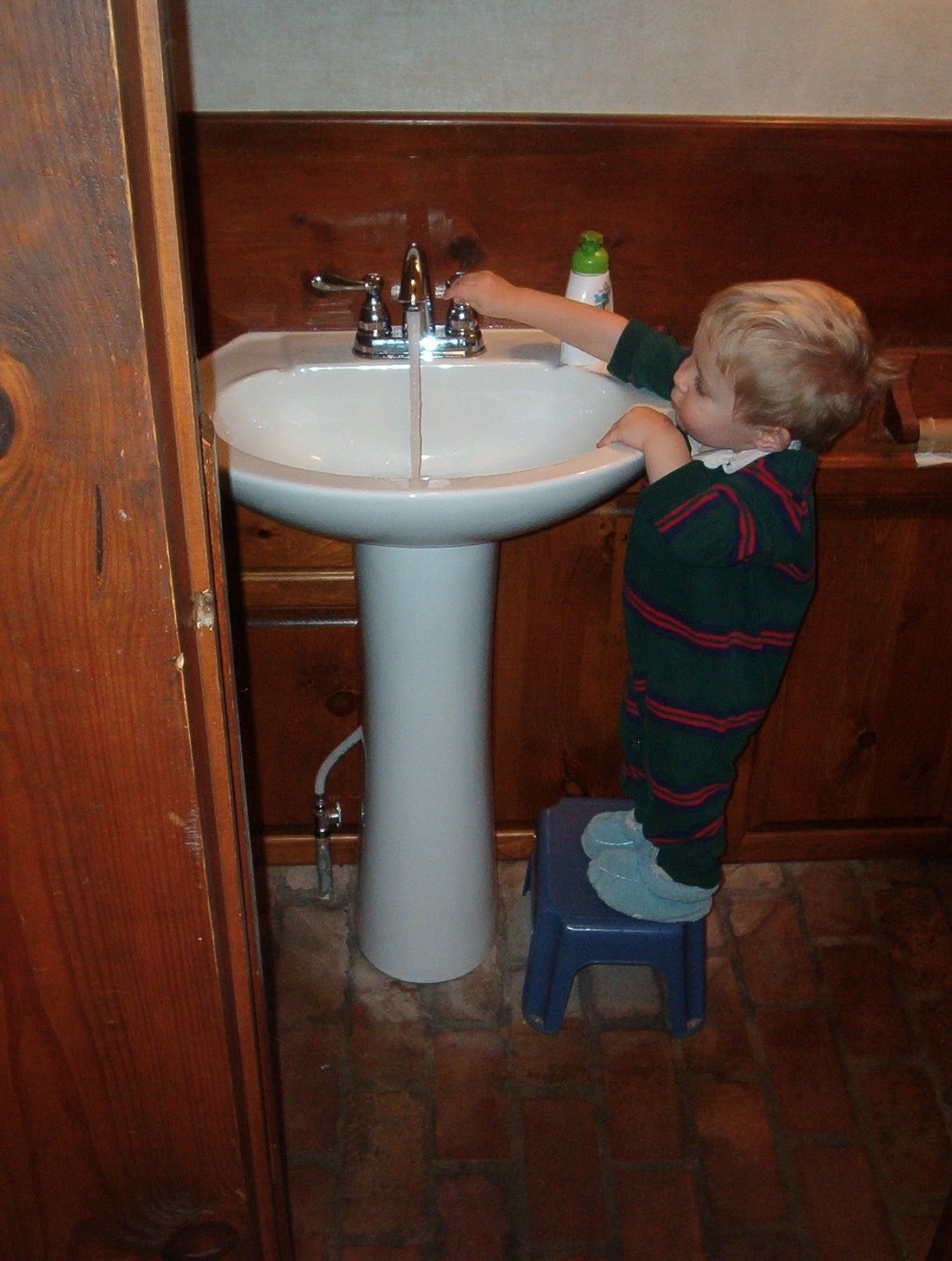 From yesterday's post, playing at home, just before diagnosis.

From Tuesday's post, John testing prototypes of The Testeroni 5000.
Romans 8:28 (NKJV)
"And we know that all things work together for good to those who love God, to those who are the called according to His purpose."