Ordinary
Ordinary. What is ordinary? I would imagine that everyone has their own, personal definition of ordinary. My definition has changed over the years, from childhood to college to married life to working to motherhood.
Now, an ordinary day includes being at home, all eight of us, working, homeschooling, living. Last year, there were seven of us at home 24/7. Now is definitely better, more ordinary.
2013 has brought some unordinary, unexpected health trials for some in our family. Yesterday, I was expecting to get ordinary test results back for one child, but they were very unordinary.
I mourned for the afternoon, the loss of one more ordinary, normal thing.
So I pray more and hope that these prayers will be answered in an ordinary way.
Maybe, just maybe God is trying to call me, trying to to pry me, out of ordinary.
For me, ordinary is safe. I like safe. I think I have been guilty of worshiping the ordinary and safe.
Stop.
For I know the plans I have for you," declares the Lord, "plans to prosper you and not to harm you, plans to give you hope and a future.
Jeremiah 29:11(NIV)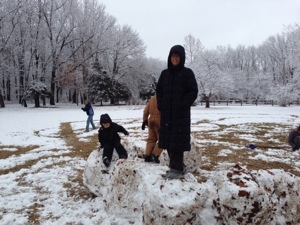 An ordinary winter day: The whole family playing in the nice "wet" snow on Tuesday..